Deep Clean services from Daisy Bee Clean – Specific Rooms
We provide deep cleaning to residential and commercial properties across Staines Upon Thames, Wraysbury, Datchet, Old Windsor,Windsor, Egham, Englefield Green,Stanwell, Ashford, Chertsey, Langley, Iver and Sunbury-On-Thames,
All our services are fully insured and guaranteed and charged at reasonable prices. We endeavour to be your best service provider when it comes to deep cleaning.
Some of our clients want assistance with the cleaning of their homes and are comfortable with managing much of their cleaning schedule, however, they are looking for assistance with the high use areas such as Kitchens and Bathrooms.
Our main aim is to deliver the desired service to all our customers as we value our customers' satisfaction.  We can walk through the property free of charge and indicate the time spend to achieve the clean that is required for you.  Just get in touch.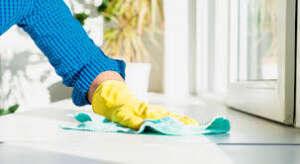 We undertake a top-to-bottom approach, aiming to clean your home as thoroughly as possible. Our house cleaners work by following a checklist for each room/area in your property, making sure that every corner and crevice is cleaned properly.
Daisy Bee Clean will provide all the necessary cleaning materials.  Due to the Covid-19 infection rates, our clients lean more to using their own vacuum cleaner and mop, due to the potential of cross transference between homes.  We can, however, provide these if none are available for use.
We require a minimum of two hours for cleaning a house or flat, but time requirements vary depending on property size and the degree of accumulated dirt and dust.  It is always better to ask for a visual quote, so that you know that everywhere will be completed in the time agreed upon.
We Use Healthy Cleaning Supplies to Make Your Home Shine
After our professional cleaning team has finished providing our superior home cleaning services to your home, you will breathe easier because we give you a thorough, healthy cleaning from top to bottom. Our team members clean virtually every available surface in every room on every visit, so you can rest assured your home has been detail cleaned.
We clean places other cleaning services providers may miss like deep under beds and on top of refrigerators. We clean kitchen and bathroom floors on hands and knees – the surest way to know they are really clean – and use a grout brush to remove mold and mildew in the bathroom.
We even brush clean the toilet seat hinges every visit. Our teams even use our healthy cleaning supplies to clean and remove fingerprints from phone receivers, light switch plates and doorknobs to help stop the spread of germs.
Covering Staines Upon Thames, Ashford, Wraysbury, Egham, Englefield Green, Old Windsor, Datchet, Colnbrook, Langley, Windsor, Upton Park, Sunbury On Thames